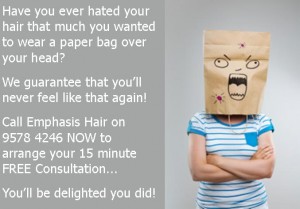 That's right! Sometimes it happens that you get the haircut or colour from hell!
Sometimes you even give it to yourself (highly unrecommended…)…
If this is your current situation or you are just looking for a change, print out this post and call us for a FREE Consultation.
We promise not to laugh or judge you in any way…
However, we will listen to what your concerns are and suggest some great solutions and options for you and your new look.
Sound great?
CALL US NOW ON 9578 4246
Make an appointment during the month of October and RECEIVE A DELUXE RECONDITIONING TREATMENT VALUED AT $35.00.
Together with our generous clients at Emphasis Hair, we were able to raise $1054 for the RSPCA.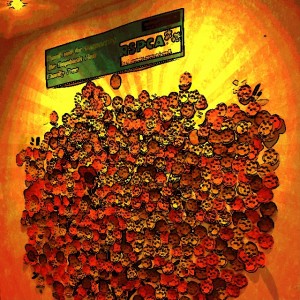 From 1st April – 30th June 2016 our clients had fun watching the RSPCA Charity Tree grow and grow,
filling the boughs with lots of love and wishes for our loved pets present and past.
The Charity Tree has been a great source of discussion and  reflection since it's creation in January on our return from our annual leave.
Since then the Charity Tree has raised over $2500 for beyondblue and the RSPCA,
Thank you to all our clients for your generosity and for helping create our ever changing living art
Check out our new Charity Tree in the next post.
Thanks!
David Belfer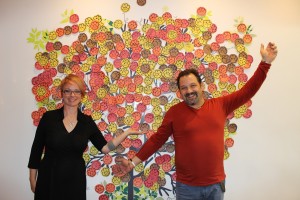 The Paws are taking over the salon at Emphasis Hair with our RSPCA Charity Tree beginning to fill the wall.
The autumnal colours of the leaves have been a great inspiration for change within the salon too.
Even Louise has had a huge change from her deep red bob to her funky new strawberry blonde short funky do…
With every PAW on the wall representing a single $1.00 being matched by David, so far we have raised over $800 for the RSPCA cause.
It has been a great campaign so far and the RSPCA had this to say…
"That all looks Great David! Definitely the most creative community fundraiser we have seen, everyone in the office is very impressed with the number of paws."
They even want to do a feature on the concept for their Instagram and facebook pages… Very excited…
Come and check it out in the salon when passing by…