RSPCA

Charity Tree 8 Weeks On… Colourful and Plentiful…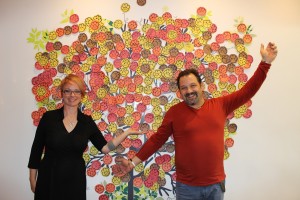 The Paws are taking over the salon at Emphasis Hair with our RSPCA Charity Tree beginning to fill the wall.
The autumnal colours of the leaves have been a great inspiration for change within the salon too.
Even Louise has had a huge change from her deep red bob to her funky new strawberry blonde short funky do…
With every PAW on the wall representing a single $1.00 being matched by David, so far we have raised over $800 for the RSPCA cause.
It has been a great campaign so far and the RSPCA had this to say…
"That all looks Great David! Definitely the most creative community fundraiser we have seen, everyone in the office is very impressed with the number of paws."
They even want to do a feature on the concept for their Instagram and facebook pages… Very excited…
Come and check it out in the salon when passing by…
Write

a Comment
Fields with * are requierd